Helis uses data analytics to digitalise the company
As data forms part of the company's DNA, Helis Group launched Data by Design, a consulting service that transforms raw data into strategic assets.
Our consultants analyse the data centricity and support IT and business managers in their operational and technological transformations.
With optimal governance of their data, business managers are able to identify new uses and de facto, ways to enable process efficiency and automation.
Our teams ensure the implementation of digital opportunities within a data-centric organisation and awareness of the emergence of a code of ethics around new technologies.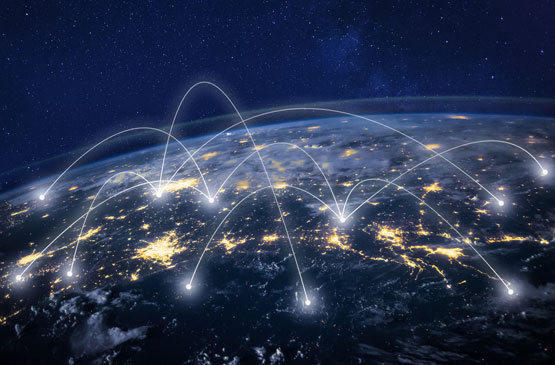 How to get the most out of data analytics?
Our intervention involves ensuring the compliance of sensitive data and proposing a customised device to digitalise functions and processes.
That is why our teams get involved across the entire data value chain.
Our consultants help data managers establish a data governance process to ensure the compliance and quality of data.
Our data managers, analysts and data scientists then help the operational teams with the coordination and implementation of exploratory projects, analytics and transformation into data "insights".
A strong team, present across the entire data analytics value chain
With 15 years of expertise in the rollout of productive and controlled IT infrastructures, our consultants translate business challenges into functional requirements and use our tried and tested methods to deploy suitable data architectures.
In view of the proliferation of tools and technologies around data exploitation, the Helis Group has teamed up with R&D partners in Artificial Intelligence to broaden the knowledge and skills of its consultants and provide you with a technological value creation ecosystem.
Our experts, who are close to the field, implement the strategy through use cases using the best big data and artificial intelligence tools and technologies (from machine algorithms and Deep Learning to Natural Language Processing).
Reflecting its place on the Telecoms and IT market, Helis proposes the most appropriate solution to meet the specific requirements within the shortest time frame.
Helis covers the full range of expertise in data analytics management
Our interventions range from analysing the data analytics centricity to the implementation of use cases:
Assessment: analysis of the current data centricity
Review of the work priorities according to budget and need
Identification of priority areas and analysis of deviations (ensuring compliance with regulations – GDPR- and use case)
Data masterplan: target, trajectory and recommendations
Data management policies
Governance process: Build & Run of data management processes: dictionaries, flow mapping, quality management, repository and data compliance
Governance tools: data lineages, data quality, standard, proof of compliance, visualisation
IS evolution: evaluation of relational databases (BI decision-making) versus Big Data platform, architecture use cases (collection, storage, distribution, exploration, data hosting – cloud offer)
Techniques to exploit/model the data and anticipate decision-support tools

Data wrangling: processing of large datasets, digital data, structured or unstructured data, qualitative analysis and confidence interval
Data visualisation (descriptive analysis, factor analysis, hierarchical, descriptive statistics and variance, segmentation, market study)
Datamining (exploratory)
Data Science

Quantitative modelling (probability, multivariate, quantification, statistics) and multidimensional (characterisation of data via a supervised model)
NLP: data interpretation, analytics and linking

Minimum Value Product (MVP): software solutions
Methodology: encryption in agile mode from POC to MVP
Our added value
A multi-disciplinary team composed of data project managers, experts in data management, data architecture, data analysis and artificial intelligence
A high return on investment thanks to the development of innovative technological solutions including Predictive Machine and Deep Learning, Computer Vision and NLP (Natural Language Processing)
Targeted recruitment and intervention process.
Use cases in data analytics
/
Insurance:
In the context of supporting the Chief Data Officer for a leading global insurance company for the implementation of a data governance programme to meet regulatory requirements
Assignment objectives
Support with the implementation of the Data Governance programme in order to:
Meet regulatory requirements (Basel 3, Solvency 2, GDPR)
Implement the group data management policy
Our achievements
Implementation of the data quality device and organisation of committees (RACI, escalation)
Modelling the quality assessment process of data identified throughout the business management processes and in IT systems
Creation of management tools, (data dictionaries, data lineages from critical data through to data centres), Data Quality Dashboards, Expert assessments, data quality rules of data collected in Business Object)
Monitoring the automation of governance tools
Audit monitoring (BCBS 239, S2)
Project monitoring (data lake)
Results obtained
12 Data Owners identified
Methodological development of the Data Office
Organisation of 18 quarterly steering committees
Identification of 150 critical data sets detailed in the dictionary
20 data lineages modelled for the key processes and quality monitoring of customer data
500 automated data quality rules to test the completeness and accuracy of the data in all of the data repositories