The Helis Group has a working knowledge of the Telecoms and media sector
Our teams handle numerous projects from design and engineering right through to integration, rollout and support.
Working for the last 15 years on Telecoms, network and information systems projects has allowed Helis to acquire an expertise and know-how that it offers to its customers, large corporations and key accounts, to support them throughout their digital transformation project. As infrastructure has become a key performance factor for an organisation, our experts support IT and business departments in the rollout of a productive and well-managed IT system infrastructure.
How do you coordinate, secure and reduce your organisation's costs for network and telecom resources and services while meeting business challenges? Armed with extensive knowledge of Telecoms operators, and continuously monitoring technological developments, our consultants will provide you with the very best technical support, give you a clear understanding of the market and best practices, and assist you in risk management, digital transformation and strategic decision-making.
Our independence from operators, system integrators and manufacturers means we are able to advise our customers on their technological options and decisions with complete impartiality and transparency.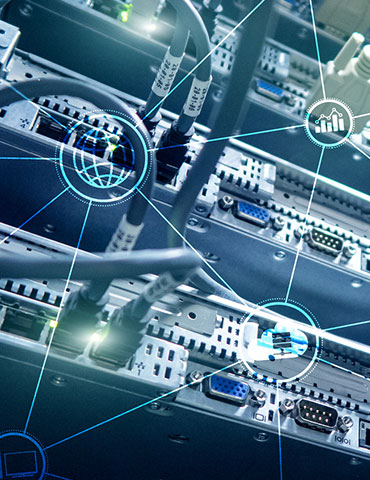 The Telecoms sector is undergoing profound change
The Telecommunications sector is constantly evolving stimulated by the development of new technologies such as 5G and fibre optic, as well as fast-moving changes in use.
Faced with the proliferation of technologies and budgetary constraints, companies and organisations have to opt for the most profitable choice within a very short time frame.
Helis is currently collaborating with various market players: operators, equipment manufacturers and system integrators/manufacturers.  Our consultants work on network infrastructures, devices and services. This "field" experience allows them to keep abreast of innovative solutions on the Telecoms market and support your projects in a pragmatic and effective way.
Helis covers a broad spectrum
Helis covers a broad spectrum of expertise in telecommunications
We are able to intervene on a wide range of assignments from strategy to the rollout of projects including:
Project management and project steering
Fulfil design, build and RUN projects
Project Management: Audit, drawing up contracts, choice of supplier, implementation monitoring
Assistance with telecoms contract negotiations for requests for proposals or by mutual agreement
Maintenance in Operational Condition (MOC) and providing support
Incident monitoring and handling
Implementation of ITIL processes
Blueprint
Incident investigation and resolution
Heading steering committees/groups
Infrastructure redesign/restructuring/extension operations
Design and development of Architectures
Installation/Configuration of equipment/platforms
Prospective studies: mobility, Cloud computing, Connected objects (IOT)
Hosting and data management
Excellent knowledge of the Telecoms sector
Mastery of innovative solutions
Tailor-made service with recruitment for specific projects
Extensive expertise in the Telecommunications sector
A team of multi-disciplinary consultants
Our consultants are experts in Telecommunications technologies and services:
/
2G/3G/4G /5G
GSM/GPRS/LTE
Roaming
Language: Java ,C ,PHP ,UML ,SQL ,HTML
Architecture: TCP/IP; LAN/MAN/WAN
System: Linuw /solaris/windows /server /Cluster /Network /OSI
Protocol: INAP , Camel , Diameter , SS7
Monitoring & support: Tekelec ,Proscan , wireshark, MOC
Network equipment: HLR/HSS; SGSN/GGSN; IN; IMS; IP
Data: Hosting, data, storage, backup
Also proficient in Synthesis, organisation, reporting, Maintenance (MOC)