Helis, a consulting firm IT in Paris equipped with dual expertise: business and IT
/
Created in 2004, Helis is a human-sized consulting firm IT that harnesses the expertise and skills of its consultants to serve its Key Account customers in both highly specialised areas, such as IT infrastructure and Telecoms, and innovative areas, such as E-commerce, Cloud Computing or Data Science.
Helis has emerged as a trusted partner through its strong commitment to: Provide every customer or project with maximum and measurable added value through the "targeted" recruitment of experienced professionals equipped with dual expertise:  IT and business. Our consultants support our customers from determining the strategic directions to the implementation of high added value information systems.
Specialised in one or more technical and/or functional areas, our experts primarily provide the following services:
Consulting and strategy
Expertise
Project management
For the past 15 years, we have worked within various different industries, including financial services, industrial manufacturing, energy, transportaion and distribution. This dual expertise means we are able to advise both business and IT departments.
HELIS, FIRST AND FOREMOST A CONSULTING FIRM WITH HUMAN VALUES
Why choose a human-sized consulting firm IT ?
Every customer counts and every project is of paramount importance to Helis. We also prioritise customer satisfaction and the well-being of our consultants.
Helis's greatest strength lies is the fact that it is a human-sized company. Indeed, the agility and flexibility this gives us means we are able to offer our customers a tailor-made solution that is best adapted to their needs.
Why join Helis? Helis is a human-centred consulting firm IT
Because we place people at the heart of our strategy from both a commercial and human resources standpoint, and because we believe that the men and women working for Helis are its greatest asset, we have set up a recruitment policy in an effort to build a long-term relationship of trust with our teams.
Lastly, because working for a human-sized consulting company gives you fast access to strategic assignments with high levels of responsibility and provides you with all the support you need on your career journey. We recruit both experienced professionals for large-scale projects requiring extensive experience and high-potential young graduates who are supported by our HR and management teams.
The core values of our consulting firm IT
Helis has three core values that are central to our development.
Aware of the importance of the human dimension in consulting services, we construct our offer on a daily basis with the teams.
All our employees listen carefully to their customers and consultants in order to provide the best possible solution in line with our values.
We are committed:
To our customers as well as our consultants and we work hand-in-hand with you on both a personal and professional level.
We strongly believe that a company has a social role to play and are committed to causes supported by our employees.
Lastly, as a socially responsible company, we demonstrate our responsibilities to society through a CSR policy that promotes respect for the environment and people.
We are efficient: You have a problem, we offer the solution
The entire Helis team is driven by one objective: Striving for excellence.
Our involvement in high investment, strategic projects requires a very high level of expertise and rigour. Our experts work alongside internal field teams with a spirit of integrity, impartiality, transparency, knowledge and skills sharing.
We are agile:
Helis grows and transforms with its customers. Our targeted positioning requires us to be able to keep pace with changes to our customers' organisations and ecosystems. Our fast decision-making circuit and lean processes mean we are able to be reactive, agile and flexible.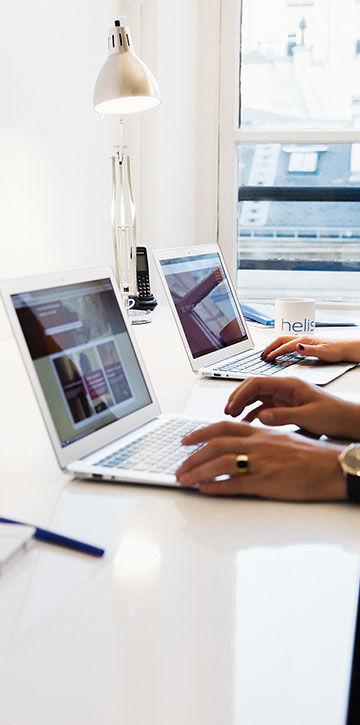 Information sharing is the DNA of our company
In line with our objective to deliver value, we have created a blog on which our consultants regularly post articles relating to their area of expertise.
This gives our customers the opportunity to find out about our services on specific and current issues through white papers and articles written by us and our partners.
We also organise sharing events to encourage experience sharing among our consultants.
Our objective is to offer you the right expertise at the right time to support your projects.
Through its consultants, Helis will be your partner, working alongside you from defining your strategy to rolling out PM projects with limited risk and a guaranteed ROI.
Comments:
Try to use terms or identify terms that will enable links to be made to category pages (main pages)
Our values and commitments
Who we are
Our expertise
Our CSR policy
Our partners
Industries
Lines of service
Capabilities
Our skills
Blog
News
Join us
Our values
Young graduates
Experienced professionals
Our job offers
Helis is the assurance for a company to commit itself to its digital development on a sustainable basis.
Xavier de La Chapelle, President and founder of Helis
Would you like to contact us?